Romanso have launched two new series led street light in the Hong Kong International Outdoor and Tech Light Expo in November. They attracted a great number of visitors and clients to visit our booth and got much good feedback from them. Glad to share with you some product details:
The R1 street light adopts IP65 waterproof and corrosion-resistant high-strength die-cast aluminum housing, enabling the illuminated street light to work in harsh environments. The high-brightness CREE LED has a relatively concentrated illumination position, which distributes the uniform light better and reduces the light loss. The light source is extended to the ground with maximum illumination to improve the comfort of eyes.
*Use CREE LED, high brightness 130lm/W, stable lighting performance.
*Optional wattage 30W, 60W, 100W, 120W, 150W, 200W to meet different projects demands.
*Convection heat dissipation design, effectively increase heat dissipation area to achieve faster *heat dissipation, ensure the lifespan of the light source.
*Quick installing,wind against support bracket to ensure the safe installing.
*More function available: Photocell,1-10V dimmer, motion sensor.
*IP65 rated for external roadway illumination.
*Working environment in -35℃ to 55℃.
*CE/RoHS/LM80/IES file are available.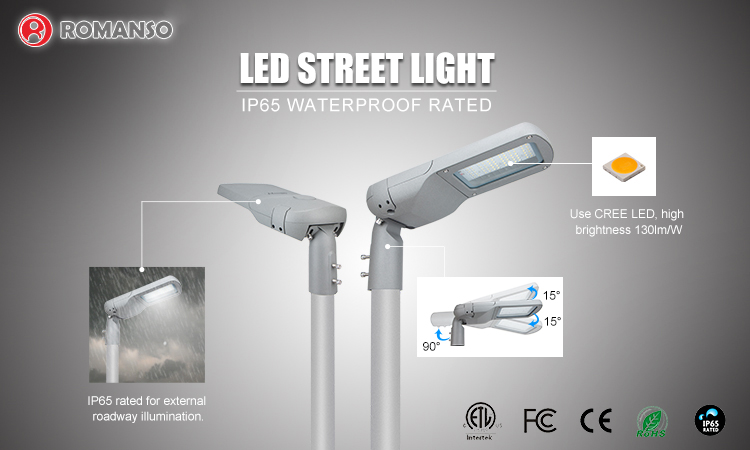 Romanso LED street light consume low energy, low-power LED street light can replace high-power traditional street light. For example, 100W LED street light can replace 250W HPS or higher power, lifespan is more than three to six times than conventional street light. It can be used with light sensors and motion sensors, so that it can be more save energy and protect the environment. LED street light do not have harmful substances, is green light sources, no light pollution, reduce carbon dioxide emissions, make the air fresh, and protect the urban environment. At the same time, this street light can be quickly disassembled without tools, it is very convenient to maintain and install. The cost of road lighting and maintenance is greatly reduced with LED light.

Romanso can provide different styles of street light according to different application, suitable for wide range of road applications, parks, gardens, paths and other outdoor lighting area.

In order to maintain an excellent position in the fierce market competition, we will continue to develop and innovate, constantly develop more new products to provide customers with more professional solutions. Improving core competitiveness and customer satisfaction with professional service.
If you have any project requirement about LED street light, please feel free to contact us, we will do our best to provide you with the best solutions and services. Thank you for your support and attention to Romanso.