With the development, it has much more requirements on LED lighting. It require different LED product to be used for different applications. At the meanwhile, led light instead of traditional lamp demand has been increasing. It is also an important phenomenon to advocate energy saving and economic cost saving. There are huge potential market in led industry.

Romanso UFO high bay light with high quality is more popular in market,which is a latest choice of energy saving LED fixture in industry lighting.The lamp is widely used in warehouse, factory, work shop, show room, shop mall, etc. Usually, the LED UFO high bay light was installed in wider area with beyond 20ft ceiling for lighting the area with large horizontal and vertical space where it requires the lamp with high lumen output.

Romanso LED UFO high bay light uses high quality SMD2835 LED with low luminous decay and high brightness. The whole lamp reach to 130lm/w, the effective is more than 92%. Comparing with traditional fixture,ROMANSO high bay light could save energy 60-80%. 3000-6500K are available, it is higher CRI, better for light distribution angle, 60/90/120 degree beam angle PC cover. It fits to PC reflector and Aluminum reflector for minimize glare. Heat sink is made from ADC12 die-cast aluminum, special design on cooling blade, it enhance the performance on heat dissipation, to make the lamp using in various strict environment.Good waterproof with IP65 is suitable to work in wet location.
It is of great economic significance to replace the traditional halogenated lamp and sodium lamp with LED UFO high bay light. For example, 100W LED UFO high bay light is suitable to replace 350-400W traditional lamp, and it not only achieves the same or better lighting quality, but also saves energy about double or tripled. Meanwhile,it has high cost to maintain traditional lamp because of short lifespan of bulb, it needs to purchased many bulbs to replace defective bulb, and electrician's cost is not cheap. The LED UFO high bay light has long lifespan with more than 50,000 hours. It works without ballast. The maintain cost is cheap. What's more, the LED UFO high bay light greatly reduces the waste of lighting. Besides, it has no harmful substances, long service life, low energy consumption and higher lighting quality. Therefore, the LED UFO high bay light is a ideal substitute product for traditional halogenated lamp and sodium lamp.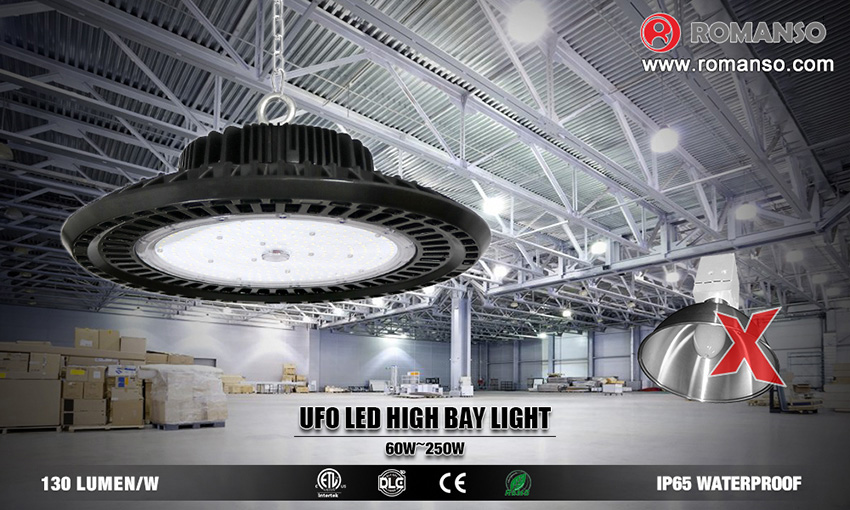 Romanso has more than 13 years experience on LED production. As a factory focusing on R&D, production,sale and service, we keep the primary goal to provide the LED product with high quality and more energy saving to customers. At the same time, we will continue to develop new product and improve the core competitiveness based on marketing feedback, to provide customers with satisfactory service and OEM service to customers. In the future, we will provide more new product products, please kindly pay attention. If you want to know more product information, welcome to contact us romanso@romanso.com!