In 2021, despite the presence of COVID-19, global economic activities have significantly recovered compared to 2020. In Asia, the control of the pandemic was relatively successful, and various business activities began to gradually recover in the second half of 2020. In Europe and the America, various sports events and business activities have also restarted since the beginning of 2021. In a nutshell, the economic impact of COVID-19 is gradually fading, which also allows the LED lighting industry to have a significant recovery in 2021 after a sluggish year.
According to TrendForce, the global LED lighting market size reached US$64.6 billion in 2021, up 9.2% year on year.
SMD Stays as the Mainstream, but Product Homogeneity is Serious
The growth of the lighting end product market is also driving the growth of the LED packaging market. Currently, LED packaging products in the market are mainly divided into SMD and COB products, and Lamp LED has basically exited the lighting market. SMD LED packaging has a low technical barrier and a large market demand. According to TrendForce, more than 95% of all LED devices in the market are SMD products. In recent years, SMD product specifications are concentrated in 2835 and 3030, resulting in more serious product homogeneity and fiercer market competition.
COB FeaturesOutstanding Technical Performance, Positioning in High-End Commercial Lighting Market
The other packaging technology is COB (Chip on Board). COB is an on-board chip packaging technology, which uses conductive or non-conductive adhesive to attach chips to a substrate and then realizes the electrical connection through lead bonding. It can not only simplify the manufacturing process and reduce the cost of the lead frame, but also has the advantages of reducing thermal resistance and better heat dissipation.
COB has the following advantages over SMD LEDs:
1. Higher Packaging Efficiency, More Cost Saving
The processes of COB packaging and SMD production has few differences, but COB packaging's efficiency in dispensing, separation, light splitting and packaging is much higher. Compared with SMD LED devices, COB LED module can save the costs occur in two production links: packaging & optical engine module manufacturing, and light distribution.
2. Lower Thermal Resistance
The thermal resistance structure of SMD packaging is chip – adhesive for die bonding- solder joint - solder paste - copper foil - insulation layer - aluminum, while the structure of COB packaging is chip - adhesive for die bonding - aluminum. The thermal resistance of the whole COB package is much lower than that of a traditional SMD package. As a result, the life cycle of LED lamps using COB packaging technology is longer.
3. Light Quality
SMD packaging mounts multiple discrete components onto a PCB board to form a LED light source module, which has problems of lightspots, glare and multi-shadows. Whereas, COB packaging, based on an integrated package, is a surface light source with larger viewing angle and easier adjustment, which can reduce the loss of light refraction.
4. Advantages in Application
It is convenient to apply COB emitters. The emitters can be directly installed in lamps without any other processes. In contrast, traditional SMD emitters need to be mounted in advance and then fixed on the PCB board by reflow soldering. It is not as convenient as COB in application. The COB device has a light emitting surface, which makes it easier to achieve color consistency and higher light spot quality. Therefore, COB devices are widely used in locations with higher requirements, such as high-end hotels, high-end retail stores, or museums and other scenarios in high-end commercial lighting market.
In recent years, smart lighting market has been in the stage of rapid development. Signify, Opple, NVC Lighting and other well-known manufacturers continue to launch smart lighting products. COB technology has been widely used in the smart lighting market. For example, tunable COB emitters with dual color temperature can solve many technical and structural design problems faced by smart lighting emitters, and can be a better choice for smart lighting. In addition, its integrated packaging structure helps to achieve smaller emitting surface area, higher brightness, and the integration of dual color temperature, and it is conductive to keep the emitting angle constant, which make it more convenient for secondary optical design and make the light spot more uniform.
In the fields of health and education, the concept of healthy lighting has gained more and more attention and gradually been accepted by the mass market in recent years. For instance, LED table lamps require much higher quality of light source than other lamps, due to the need for close viewing distance. COB emitters are more suitable for LED table lamp products. Table lamps with COB emitters have many advantages such as non-flickering, no electromagnetic radiation, low energy consumption, high illumination and high color rendering index. This is a new generation light source which is the most similar to natural light and has significant effect on eye protection and myopia prevention.
International Giants still Dominate the Market, while Chinese Players Rise Strongly
COB market is not highly sensitive to price due to its technical barriers and application in high-end market. Therefore, COB product market is still dominated by international giants, especially those in Europe, North America and other developed country. However, with the progress of technology in recent years, the product competitiveness of Chinese manufacturers is rapidly improving. The trend of Chinese players' rising is obvious. Moreover, with the popularization of COB technology, besides the commercial lighting market, COB products are gradually introduced into the home lighting market due to the trend of no-main-lamp design in recent years. More and more families begin to use downlights, spotlights and other lighting products, which are the main application of COB products. This is expected to further drive the market demand for COB packaging.
2021 Global Revenue Ranking of COB Packaging Vendors in LED Lighting Industry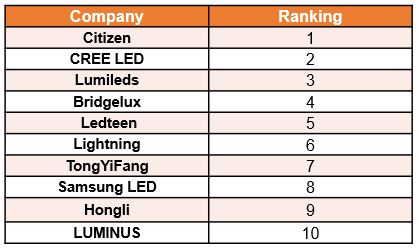 Source:TrendForce,Mar,2022
Globally, Japanese manufacturer Citizen still held the top position in COB packaging in 2021. Citizen has been in the leading position in COB packaging for many years, both in terms of technology and revenue scale. In 2021, although its share of low-end COB market shrank, it still takes an absolutely leading position in high-end COB market. Particularly, in European and North American markets, Citizen's COB market share keeps at a high level.
CREE continued to hold the No. 2 position globally. CREE is the only manufacturer in the world that uses SiC as LED epitaxial substrate. Although chips with SiC substrate have gradually withdrawn from the market in recent years due to high cost, CREE is still aiming at the high-end market in the lighting field. Therefore, CREE mainly promotes high-power and COB products. High-power products are mainly applied to products such as street lights, outdoor high-power lighting, etc., while COB products are mainly applied to commercial lighting scenarios through distribution channels.
Lumileds is one of the major LED packaging manufacturers in the world. In mobile flash LED market, Lumileds takes a dominant position. It also holds an important position in the lighting market and it is the core supplier of Signify. Lumileds' revenue from COB products is not a major part of its whole revenue, but still ranked the third in the world.
Other top 10 COB packaging manufacturers include Ledteen, Bridgelux, Lightning, TongYiFang, Samsung LED, Hongli and Luninus. Among them, Ledteen has shown rapid growth in recent years and entered the supply chain of international giants, which enables rapid growth of production capacity and rapid increase of output. In addition, Bridgelux is also developing rapidly in the COB market. After merging with Kaistar, Bridgelux further expands its COB product portfolios, which can cover the demands from more customers at different levels, and its COB revenue has shown obvious growth. In addition to the top 10 manufacturers, there are still a number of outstanding manufacturers in the field of COB packaging field, such as Sunpu LED, Oalante, etc.
(Compiled by LEDinside)